Find or Adopt
Lost Animals
Any animal found wandering at large (not under the effective control of a person) in a public place or on a private property can be impounded by an authorised officer of Maranoa Regional Council. If the owner of the animal can be identified, Council will attempt to contact them and if they are available immediately, return the animal. If the owner is unknown, non-contactable or not immediately available, the animal will be taken to Council's Impound Facility.
Every attempt is made to reunite animals with their owner as soon as possible. If Council finds your pet with any type of identification and/or registration tag, you will be contacted by a Council Officer from the Community Safety Team. Pets often lose their collar/tag, so it is important to have your pet microchipped too. Remember to advise Council and the microchip registry if your contact details change so they can update your records.
Don't forget to notify Council of your lost pet as soon as possible. This information ​assists Community Safety Officers making a match if your pet is impounded without identification.
​Animals are held until 5pm on the 'available until' date specified below.
Council Officers will contact the anim​als recorded owner directly if the animal is registered and/or microchipped. Registered dogs and cats will be impounded for five working days. If an animal is not registered, it will be held for a period of three days. At the end of the impoundment period, unclaimed animals may be temperament tested and assessed for rehoming/adoption.

To claim your animal from the pound, you must pay the impound release fee and any associated charges. On release all animals must be registered and microchipped.

Payment for release can be made at any of the Customer Service Centres between 8.20am and 5pm, Monday to Friday. Collection times are between 10am – 10.30am and 3.30pm – 4pm, Monday to Friday only, at the Community Hub, 57 Bungil Street, Roma. Receipt of payment must be presented to Council's Community Safety Officer at the time of collection of your pet. Please call ahead to prevent any delay in collecting your pet.​

A list of impoundment and registration fees can be found in Council's Fees and Charges Schedule

If you believe an animal being held at Roma Pound facility belongs to you, please contact Council's Community Safety Team on 1300 007 662.

The operation of the Roma Pound Facility and the impoundment of animals is guided by Council Local Law No. 2 (Animal Management) 2011 and Subordinate Local Law No. 2 (Animal Management) 2011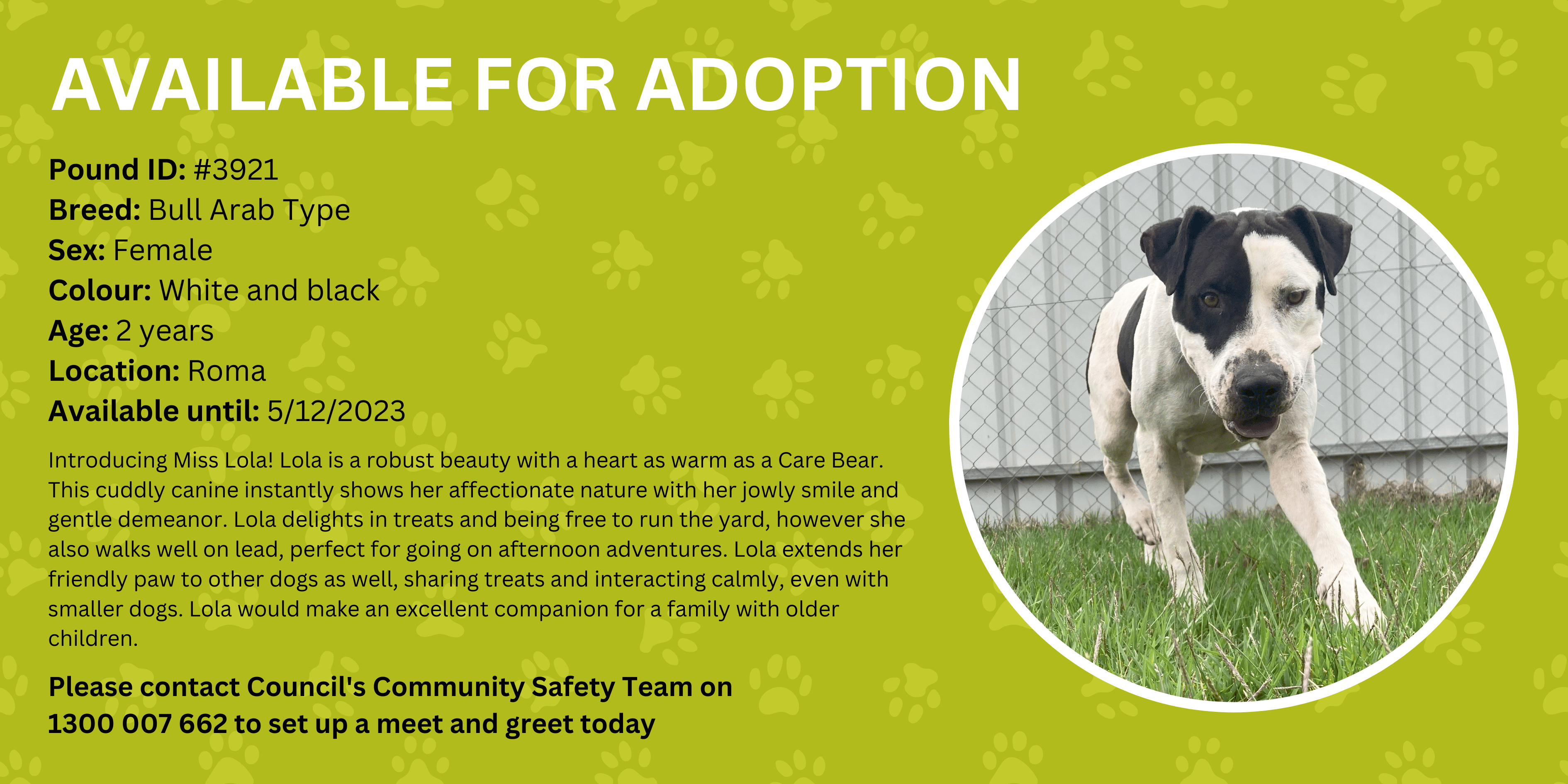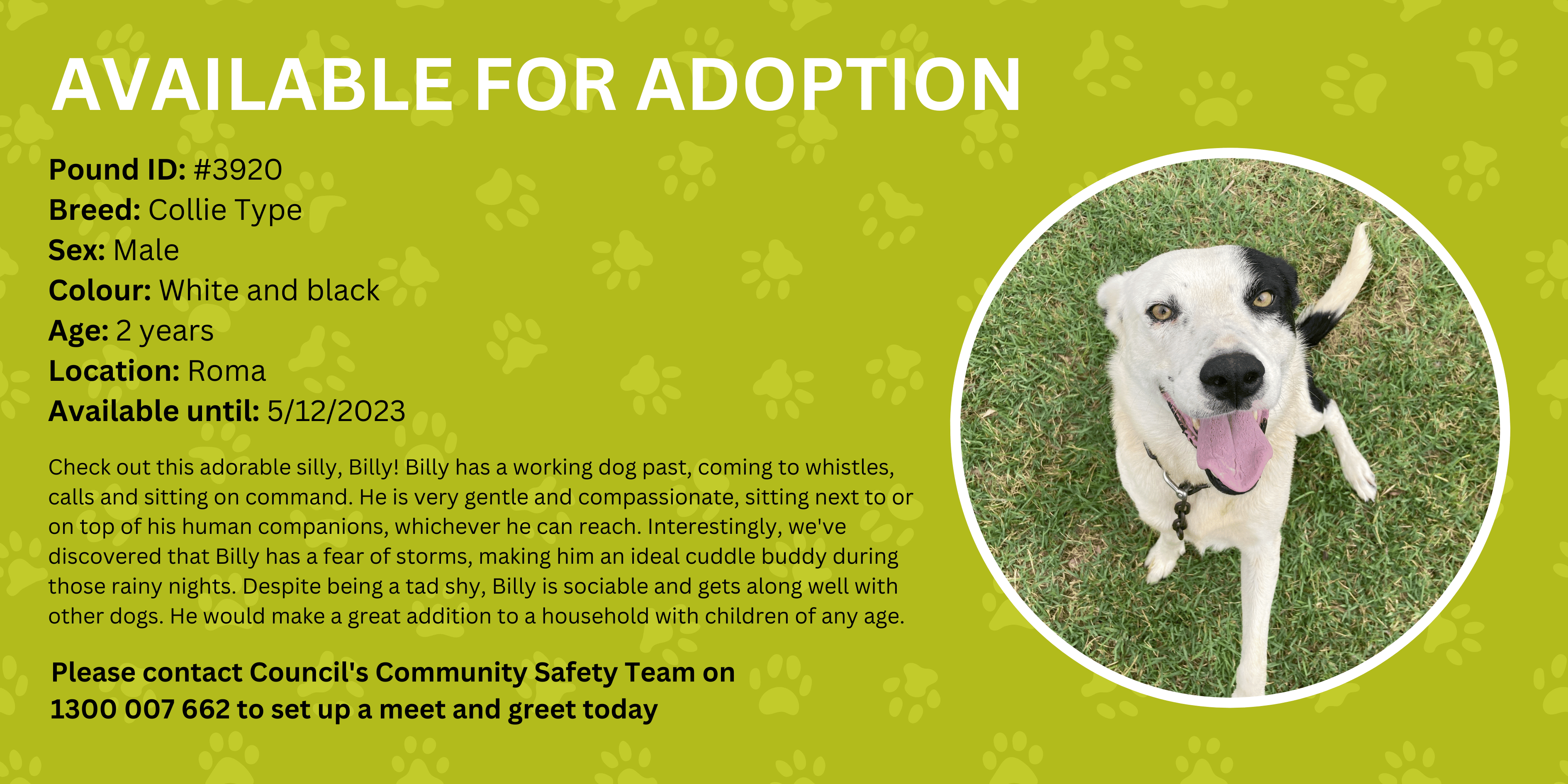 Adopting a Pound Animal
Ready to adopt a dog or cat from the pound? – We are here to help.
Finding loving homes with people committed to meeting each animal's needs is a top priority for us. Our adoption process is designed to help us get a better understanding of your lifestyle, living arrangements and expectations, so we can help match the right owner with the right pet.
Surrendered animals, or lost animals that are not claimed by their owners enter the adoption process. All animals are temperament tested and assessed prior to being made available for adoption. There is a cost to adopt an animal from Council. This fee assists to cover the costs of responsible dog ownership and includes: de-sexing, microchipping and registration.
If you find an animal available for adoption on Facebook or our website, please contact Council to register your interest in adoption. Our team will contact you to arrange for the completion of an adoption questionnaire, this is important for us to ensure your lifestyle and home environment will be compatible with your potential new pet's needs. If a suitable pet is available a meet and greet will take place so that you can interact socially with the animal and be certain that the choice you have made is the right one – for everyone. If you have an existing pet or children it is highly recommended for them to accompany you to the meet and greet.
If your meet and greet is successful and you decide to adopt you will need to:
Complete adoption, registration and microchipping paperwork
Pay the adoption fee
If you rent, you will need to provide written evidence that your landlord is happy for you to have a pet at your home
Ensure that on adoption of your new pet you will maintain compliance with Council Local Laws on the number of animals you may keep at your property​.
To adopt or register an animal you must be over 18 years of age. A person cannot adopt an animal on behalf of another person. Only the animal's new owner is able to complete the paperwork to ensure that the new owner is fully aware and able to fulfil the animal's welfare and care requirements.
Once all documentation and payment is complete, the animal will be booked in for any veterinary procedures required, and collection location and times advised.
The Community Safety Team love seeing animals find a new home, gaining great satisfaction from knowing that the animals receive a second chance and have the opportunity to provide their new owners with a loving companion.
For more information about adopting an animal contact Council on 1300 007 662​.​