Christmas in the Maranoa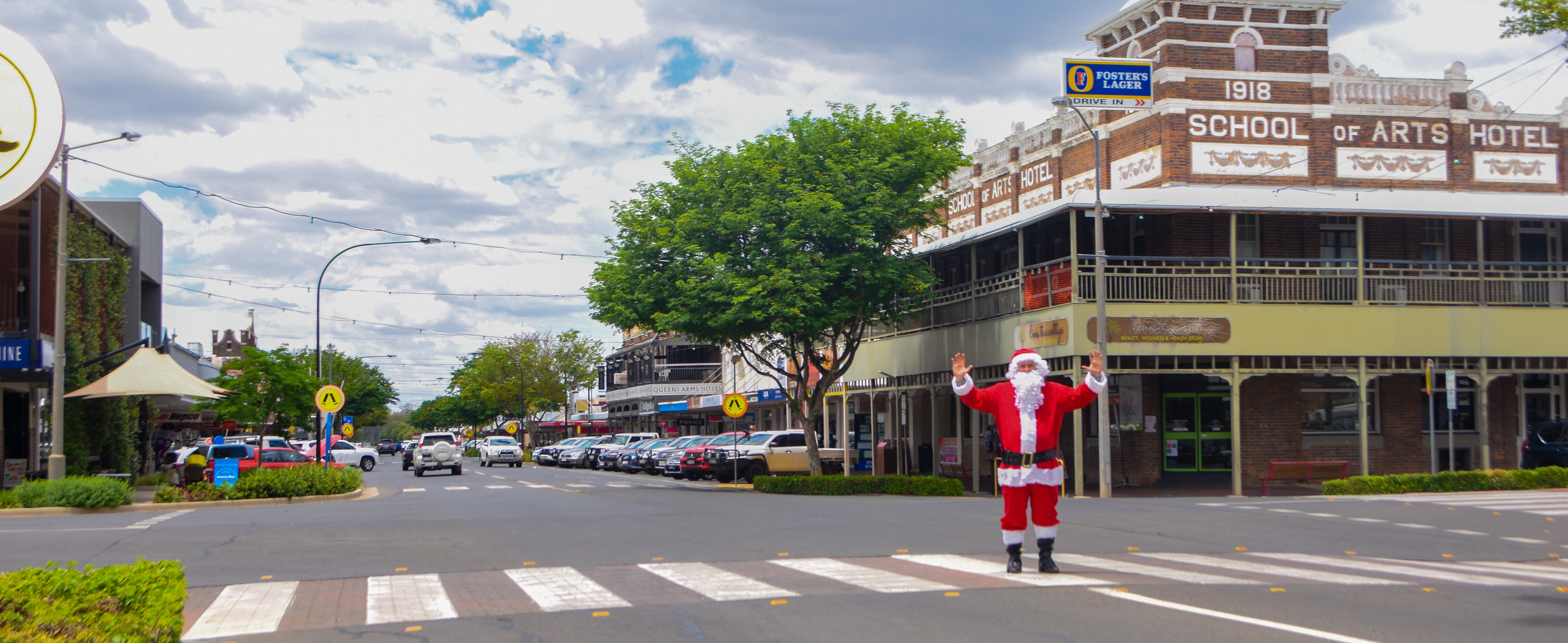 JINGLE ALL THE WAY TO THE MARANOA CHRISTMAS STREET PARTY!
McDowall Street, Roma will come alive with the spirit of Christmas on Thursday, 1 December as Council kicks off the festive season with the Maranoa Christmas Street Party.
Now an iconic event on the local calendar, festivities will take place from 5.00pm until 8.30pm with lots of food, fun and festive entertainment on offer, including the official lighting of the Christmas Tree lights.
As you wander through the main street of Roma, Mayor Tyson Golder said there will be something for everyone at this year's Council Christmas Street Party.
"With bouncing elves and marching notes, local performances and displays, it will be a night not to be missed,"
"For adults, events like this take us back to enjoyable times as a child when the whole community got together. With the far-reaching impacts of COVID the street party provides a welcome and needed opportunity to support each other and enjoy the company of others."
"Keep your eye out for Santa also, as he will make his way from the North Pole to Roma offering free Santa photos." Cr Golder said.
Stores in the Roma CBD will remain open plus a great variety of market stalls will be on offer to help with all your gift shopping needs.
For those residents who may not have the ability to provide a meal for themselves or their family, they are invited to register for a free meal at this year's Christmas Street Party. Meals are available for children (ages 3-10) and youth/adults (ages 11+).
This year's Street Party Christmas meal is again being held in place of the Christmas Luncheon.
Free meal registrations are required by Wednesday, 23 November. To register for your meal please call Council's Community Support Officer on 1300 007 662 or complete your details online using this link: https://forms.office.com/r/UYMAUcwubB.
Further details regarding the meal will be provided at registration.
Council would like to thank all the sponsors of the Maranoa Christmas Street Party including, Origin, Ezyquip Hire, Senex, The Club, Taylor's Mechanical Services, Maranoa Today, RDO Equipment, Mitre 10, Gretel Lane, Vertech Group, Brown & Hurley and Knights Smash Repairs
As the holiday season quickly approaches and Christmas shopping becomes high on the priority list, Council is encouraging residents to "Think Local First this Christmas" and support local businesses when purchasing gifts.

As part of a regional campaign, five local area shopping competitions will take place across the Maranoa with each local area competition consisting of prizes donated by local organisations and businesses.

Thanks to the generosity of local donations, nearly $6000 worth of prizes is up for grabs including a regional prize worth $2000 thanks to Roma Betta Home Living and Roma Home Timber & Hardware.

To enter the competition, shoppers will need to spend $10 or more in one transaction at a participating business in the Maranoa, complete the paper ticket provided and place in an approved collection box.

Every entry in any of the five local area competitions will receive free, automatic entry into the regional draw for a chance to win two $1000 gift vouchers. 

The campaign is now underway with winners being drawn at the following Christmas celebrations in each local area:

· Roma Local Area draw – 1 December 2022, at the Maranoa Christmas Street Party 

· Booringa Local Area draw – 2 December 2022, at the Booringa Action Group Christmas in the Park 

· Bungil Local Area draw – 11 December 2022, at the Injune Community Carols 

· Warroo Local Area draw – 3 December 2022, at the Surat Ambulance Christmas Party 

· Bendemere Local Area draw – 3 December 2022, at the Wallumbilla Christmas Party  

Winners of the regional prizes will be drawn at the Maranoa Christmas Street Party on Thursday, 1 December 2022. Winners, however, do not need to be present at the time of the draw.

Look out for more details in the windows of participating businesses in your local area or contact your Local Development Officer for further information.

Click here for Terms & Conditions

Flyers for each local area can be found below!

'Tis the season to be merry as Council begins accepting monetary donations from Monday, 25 October until Friday, 26 November for this year's Christmas Relief Appeal.

Council is continuing its partnership with Salvation Army to offer Christmas Relief to households in need of extra support during the holiday season. Toys and food relief cards will be available to eligible households within the Maranoa.

If you would like to help those in our community and spread a little Christmas joy, donations can be made:

In person at any Council Customer Service Centre
By cheque payable to Maranoa Regional Council (mail to: PO Box 620 Roma QLD 4455)


Mayor Tyson Golder said this is a fantastic opportunity for residents to spread Christmas cheer across our region by supporting those who fall on hard times at Christmas.

For those in need of Christmas Relief support

If you are in need of a helping hand in the way of toys and food relief, please request an appointment with Community Support prior to Wednesday, 10 November. To arrange an appointment contact Customer Service on 1300 007 662 or enter your details at https://forms.office.com/r/NhPfXhJUhh

Confidential and short in-person appointments will be held in Roma, Mitchell, Surat, Injune, and Yuleba in late November. For those unable to attend in-person, a phone appointment may be requested.

To be eligible, applicants must hold or be eligible for a Health Care Card, are a low income earner facing financial distress, or due to unforeseen circumstances are facing financial insecurity. Proof of income is required for the appointment (payslips or Centrelink statement).

For those in acute need of emergency relief

If you are in immediate need of Emergency Relief, below is a list of ongoing Emergency Relief services:

Anglicare 1300 114 397
Salvos Connect 1300 371 288
St. Vincent de Paul Helpline 1800 846 643

You may also contact your local service provider about accessing local emergency food support or attend Roma Salvation Army's weekly Free Food Market.

Check out the Maranoa Christmas Street Party event schedule below!