Council Plans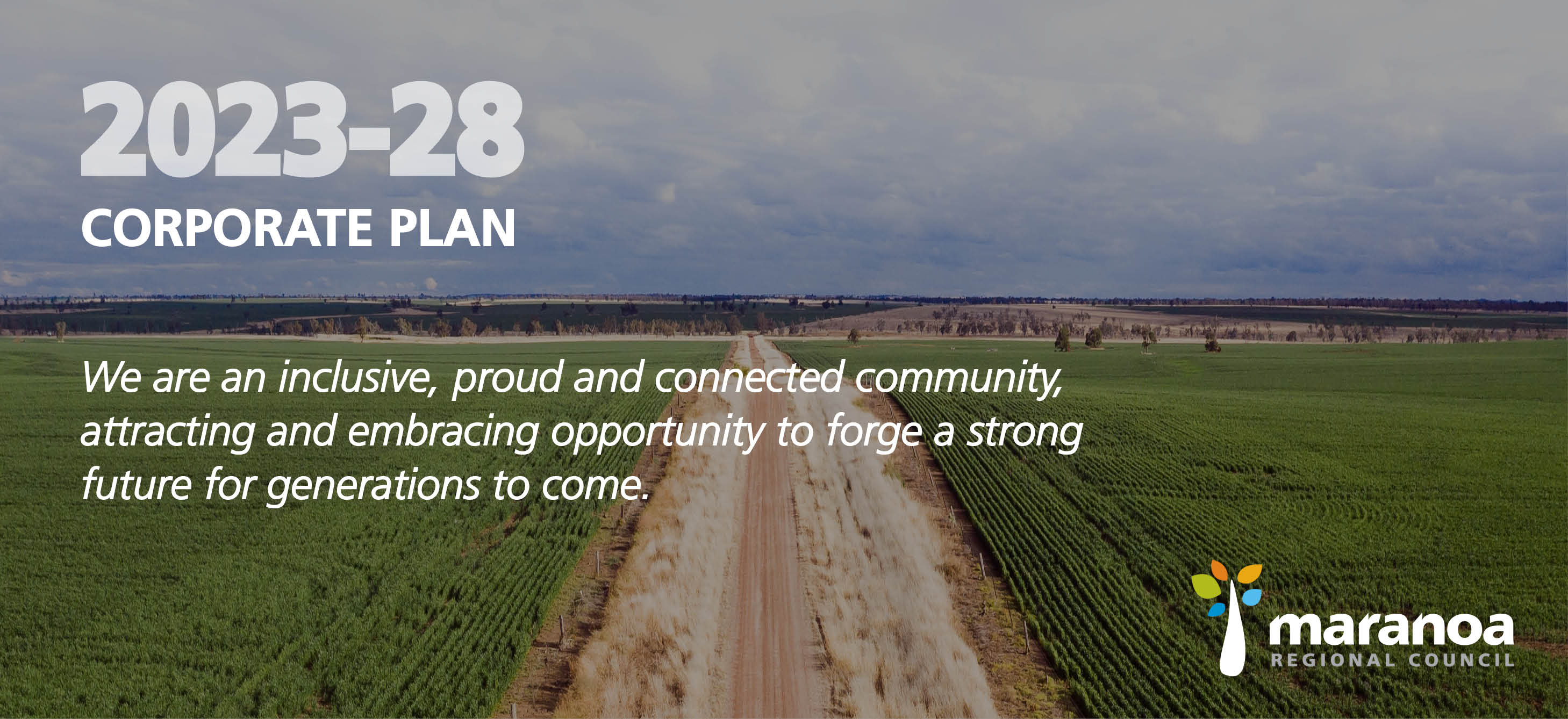 Shaping Our Future: Corporate Plan 2023 - 2028
Maranoa Regional Council would like to thank everyone who contributed to the Corporate Plan Shaping Our Future survey and provided valuable feedback on what is important to you!
Council's Corporate Plan 2023-2028 was adopted during the Ordinary Council Meeting on 28, June 2023.
Future-proofing our region, building an inclusive, proud and connected community and a prosperous economy are at the heart of council's new Corporate Plan.
Our Plan may be focused on the years 2023 to 2028, but our role as a council is to think beyond that so future generations are proud to call the Maranoa region home. Our children and grandchildren deserve nothing less.
Building an inclusive, resilient community and a strong economy is critical – this means addressing the issues and embracing the opportunities brought about by new technology and environmental and societal changes and listening to what's most important to our community.
The Corporate Plan 2023-2028 encompasses Council's vision, purpose, mission, guiding principles and strategic priorities for the next five years. The plan forms the basis on which operational plans and strategies are developed and also aids Council in their decision making processes.

Integrating 3 of a local government's most important plans, the Operational Plan showcases Council's Corrporate Plan (where we are heading over the next five years), Operational Plan (what services and projects we will work to deliver of the next year), and Budget Highlights (how we will fund our Operational Plans' services and projects).

Maranoa Regional Council's Customer Service Charter​ describes our organisation's commitment to delivering high quality service to our customers and clients. The Charter explains the level of service you can expect to receive when you deal with us.

Our Customer Service Charter sets out in plain language:

Our service targets
How service levels will be measured
What you can do if we don't meet our service targets and levels

If you have any queries regarding our Customer Service Charter, please contact Council.

Should you not be satisfied with Council's response to a request or complaint, a review body such as the Queensland Ombudsman may be able to help.

Visit the Queensland Ombudsman , freecall 1800 068 908​, telephone 07 3005 7000, fax 07 3005 7067 and contact via email

The Local Disaster Management Plan is prepared in accordance with the requirements of the Disaster Management Act 2003 to ensure safety of the community and effective coordination of available resources during a disaster.

The purpose of the Plan is to detail arrangements for the coordination and management of resources, to ensure and maintain safe communities within the Maranoa region prior to, during, and after a disaster.

The Plan is reviewed annually to ensure it meets the changing needs of the Maranoa region.​ Its is a tool that is utilised only by the Local Disaster Management Group.

Maranoa Regional Council is currently undertaking a full review of our community and local plans in the areas of industry, tourism, arts, culture, sport and recreation.

Residents may remember, or have been involved in, the development of our communities' first Local Plans in 2013. Those plans have guided Council's actions over the last 4 years.

However, the region has progressed significantly over the last 4 years, new residents have come to our region, and a new Council term commenced in 2016. It is timely, therefore, to take a fresh look at where we are heading, and seek our community's input into Council's directions for the next 5 years.​​

Maranoa Regional Council Pest Management Plan 2012-2016 has been developed for the benefit of this community. The expertise of many local stakeholders (including local and state government agencies, industry groups, environmental representatives, community groups and individual landholders) has been drawn on in planning for the cooperative management of pests on all land within the shire boundaries.

The key objectives of the plan are to:

Reduce the economic, environmental and social impacts of pests within the Maranoa Regional Council area.
Improve the use of resources and expertise available for managing pests within the Council area.
Prevent the establishment of new pests and minimize the spread of current pests.
Improve the protection of environmentally significant areas.​

This plan has been developed in accordance with the requirements of the Land Protection (Pest and Stock Route Management) Act 2002 and will serve as a guide to all local land managers.​
Master Plans
| # | Name | Size | File Type | Download |
| --- | --- | --- | --- | --- |